Jamaica continues to be a tourist hot spot, welcoming approximately 3.5 million tourists each year. Two words: golden sand, Ya Mon! Not to mention tourist friendly weather year round averaging 27 to 29 degrees Celsius (80-90 F). With over 200 miles of pristine beaches, it's easy to picture yourself basking in the sun sipping on a coconut. How could I resist this tropical oasis as my first all inclusive experience? Booked it. Here is what I learned about travelling in Jamaica.
I hope this helps you with trip planning.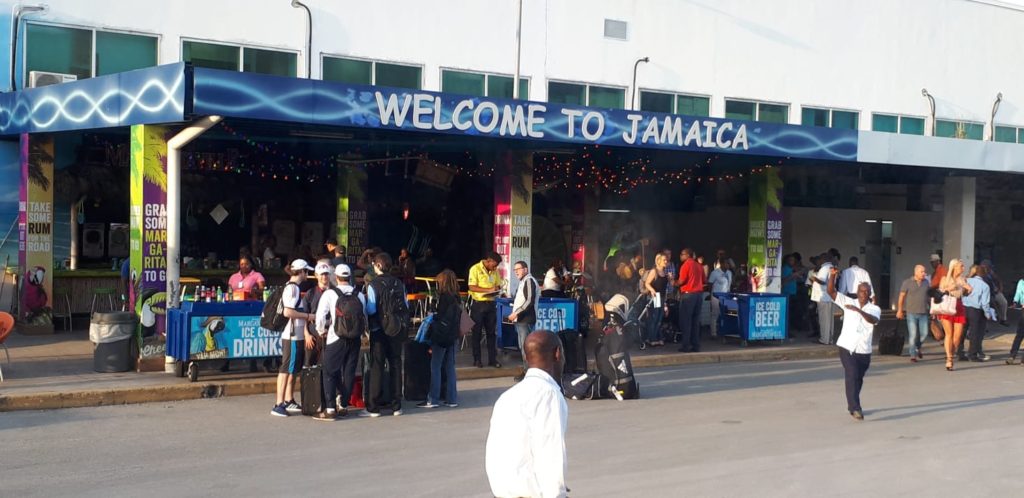 Arrivals & Departures
The direct flight into Montego Bay was a wise choice, approximately a 4 hour flight- totally doable, even with an 8 month old. Here is where I could have done better: customs and airport shuttles. The customs wait was approximately 45 minutes, then finding the shuttle counter and boarding another 30 min. Depending on where your resort is, factor in another 30-40 min for Montego Bay resort travels, or for Negril 1.5 hours. It was a long 2 hours. A fellow traveler mentioned Club Mobay, which I will definitely book for my next trip. For $50 per adult on arrival you receive:
*Personalised Meet & Greet
*Escort & Fast Track Access through immigration & Customs
*Assistance with luggage retrieval
*Access to arrival lounges
For $30 per adult on departure you receive:
*Fast Track Access through security
*Complimentary non-alcoholic & alcoholic beverages
*Complimentary snacks, tapas, sandwiches, fruits and more
*Complimentary Wi-Fi
*Digicel Business Centre
*Cultural Exhibits
*Shower facility
*Complimentary international calls to United States, Canada & UK landline
*Express spa treatment available at an additional cost
*Children's play area
Definitely an awesome perk for the traveler that wants to maximize their time and comfort. Club Mobay has their own dedicated wait lines which were empty, and in my opinion saving time means less stress.

Getting To The Resort
Best advice: book a shuttle prior to getting to the airport and keep your confirmation number handy. Only two authorized taxi companies operate out of the airport. Do not take any ride that you cannot book through the authorized airport taxi desk just outside the exit to the customs office. We chose to work with Caribic Vacations as opposed to a taxi service, as this particular company worked directly with the resort we stayed at, The Grand Palladium Jamaica. Pro: Very comfortable and knowledgeable drivers. Ask them lots about questions, especially about the little towns you drive through on the way to the resort. Con's: poor road conditions.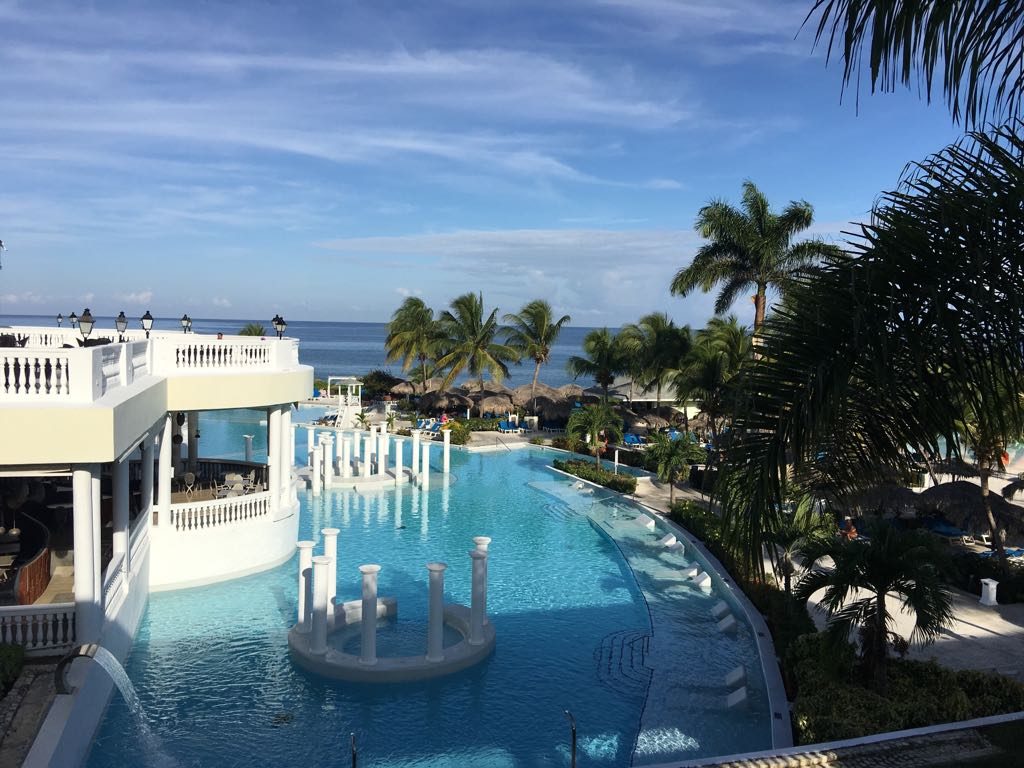 Resort Picks
After researching many options we chose: Grand Palladium Jamaica.

Pro's:
-Family friendly areas as well as areas suited for adults only
-Shuttle carts are readily available to get you from one end to the next
-Rooms are clean, ocean views are magical
-Plenty of food options
-Largest pool in Jamaica
-Water sports are fun, especially paddle boating
-Don't need to leave the resort there are SO many options, we didn't get to everything
-Staff is friendly
-coffee is amazing
-desserts are everywhere but so is fruit (eat a donut- amazing and a beef patty)
Con's:
-Service is hit or miss
-A la carte food options can take time
-Shows are hit or miss, often cancelled if there is rain
-Room decor is outdated
-Getting bottle water is hit or miss, have to ask for it constantly
-Staff is always trying to sell amenities: spa, photos, other promotions
Overall the trip was a success and we would definitely go back. Excursions were not necessary and we doubt the need to book any when we return. Safety was a concern but we played it smart, stayed on the resort, we didn't venture off on any night outings. Instead we chose to really enjoy what the resort had to offer and this resulted in a very relaxing vacation in Jamaica.